Business Exhibitions in UAE will cover different industries and include a number of conferences. January is the first month of 2023 and it serves as new opportunities and new perspectives in the trade industry but not only. UAE will host a considerable number of meetings this month. Trade shows start will SteelFab a business trade in metalworking, metal manufacturing, and steel fabrication. Middle of the month reserves space for the World Future Energy Summit, Intersec Dubai, and IFOS. Arab Health is the last meeting of the month and closes the meetings month on the opening of 2023.
January Exhibitions
Exhibition name
Cycle
Host City
Period of Organizing

SteelFab

SteelFab is the biggest trade event in UAE and The Middle East for the metalworking industry.

once a year
Sharjah
Expo Center Sharjah
9 January to 12 January 2023

Duphat

This is one of the biggest exhibitions that take place in this center with a size area of 30'492 sq miles.

once a year
Dubai
Dubai World Trade Center
10 January to 12 January 2023

World Trade Energy Summit

World Future Energy Summit will organize forums and events in the fields of clean energy, water security, business connections, smart cities, climate, and the environment.

once a year
Abu Dhabi
Abu Dhabi National Exhibition Center (ADNEC)
16 January to 18 January 2023

Intersec

Intersec is an exhibition about safety and security that merges together in its 24-th edition with more than 1000 exhibitors to discuss strategies related to global security.

once a year
Dubai
Dubai World Trade Center
17 January to 19 January 2023

IFOS

This exhibition represents a great network of fellow otorhinolaryngologists to cooperate with each other in order to follow the best practices and be informed about the latest discoveries that come from each corner of the world.

every four years
Dubai
Dubai World Trade Center
17 January to 21 January 2023

Arab Health

Arab Health brings together different actors from the health industry and makes healthcare sustainable and efficient.

once a year
Dubai
Dubai World Trade Center
30 January to 2 Febraury 2023
Business exhibitions in Dubai in January 2023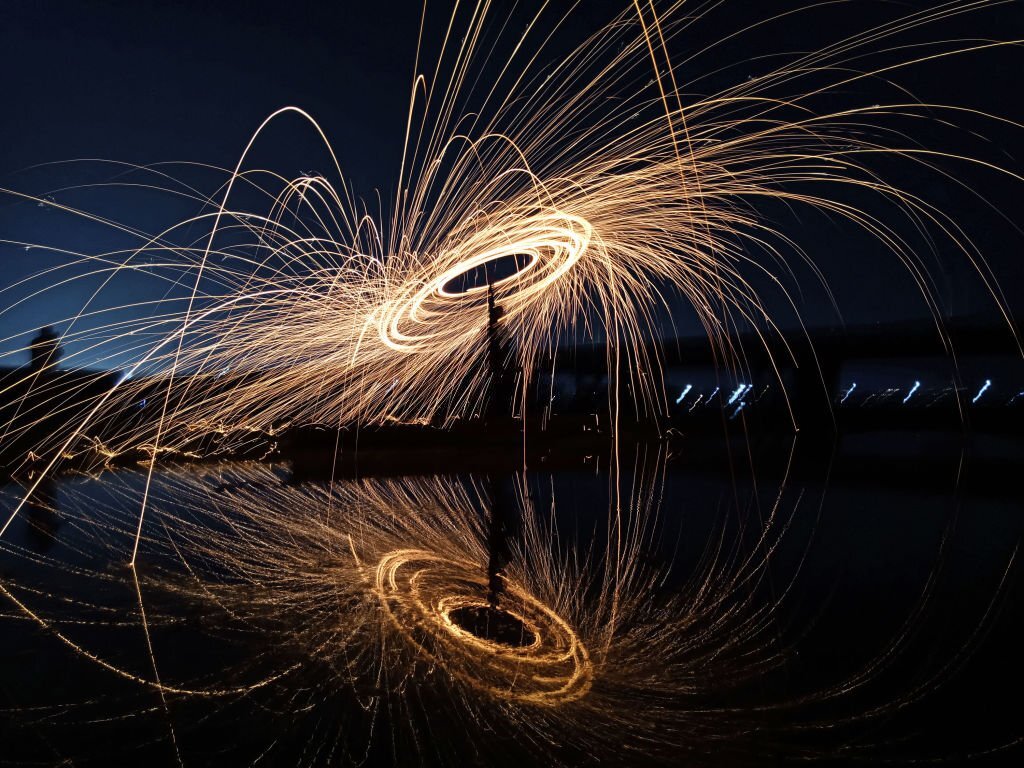 SteelFab is the biggest trade event in UAE and The Middle East for the metalworking industry. This event has a major role in helping regional companies develop logistic and digital capabilities. That helps them position themselves in the market. The opportunities for business evolution are quite big and this event gathers together experience, diversification in geography, and innovation.
SteelFab, through displaying new technologies, equips companies with digital forces. That serves them to remodel their business paths with new proposals.
With the latest technological advancements, the metal industry is experiencing a fast evolution. Product research and advanced methods of producing steel and other metals are changing because of manufacturing technologies.
Smart sensors, sustainable materials, and green energy sources are the most used sources in the new manufactural processes. In this exhibition, each company can find everything it needs from the metal working industry. In this meeting, the latest innovation and technology comes with interactive speakers. This, adding the speaker's experience, completes a full guide for the registered entities to profit from and learn from.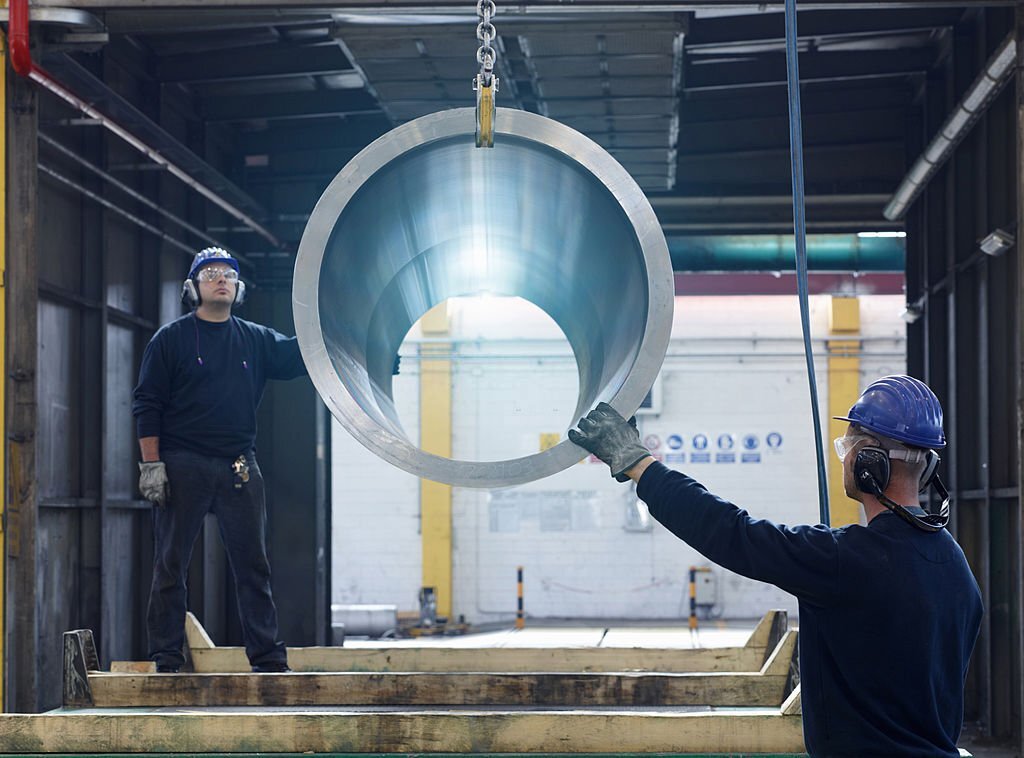 Products
The event centers on a variety of industrial segments showing power tools, machine tools, pipes, and tubes. Exhibitors from different countries and GCC are gathered in the 18th edition to enjoy 12'000 sq miles of space for conferences and product displays. Demand for machinery that cut off pipes and tubes has been higher. The usage of tubes and pipes is increased in the projects in UAE and in the region.
Governments are investing continuously in pipeline networks, which sustain the demand for pipes. Demand for electricity is high in UAE and respectively in other countries of the region. Governments are ready to invest billions of dollars in underground projects where the usage of tubes and pipes is necessary.
SteelFab will be a huge shop for a wide range of machines and tools. Starting from machines that are designed for one function to industry systems that complete a number of tasks and processes. The exhibit will cover tools for pipe and tube construction, pipe forming and cutting, tube forming and bending, orbital welding, pipe and tube straightening, and other accessories.
This year's exhibition is focused also on Welding and Cutting, Stainless Steel, Wear Resistance, and Hard Facing, foreign pavilions, seminars, presentations, live displays, and tutorials for different products.
The exhibition covers all the welding and cutting processes of the steel fabrication industry. The expansion of manufacturing and industrial sectors in the Middle East is the main reason for higher demands in welding and cutting equipment. The focus on renewable energy also gave boost the demand for welding equipment.
Construction and shipbuilding industries, aerospace, and construction of new power plants are the areas that use welding equipment the most. The show covers the total need for information related to welding equipment for buyers in the region.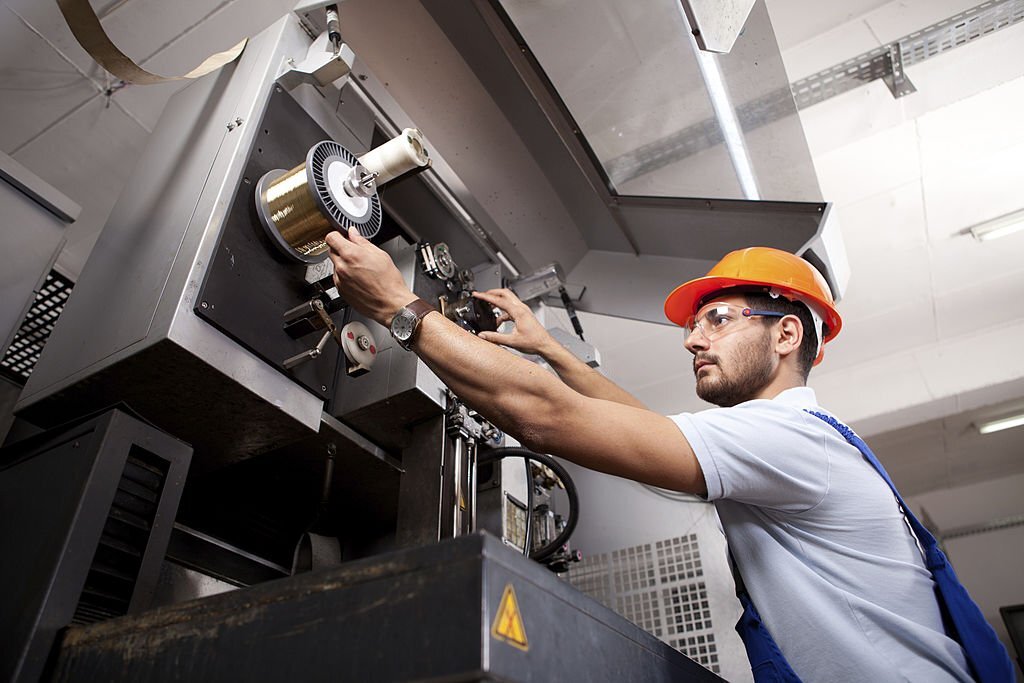 Machine Tools
Due to high demands for machine tools, this is a split section in the exhibition. SteelFab displays for its viewers' lathes, milling, drilling, grinding, work centers, high-precision machine tools, machining centers, and affiliated machine tools. The exhibition will have a dedicated area where visitors can stay longer. They can take a close eye on all the equipment and machines exposed.
Wear-resistant and hard-facing cladding requires materials to save equipment from fretting, abrasion, erosion, corrosion, and other natural factors. Manufacturers that are focused on extending wear life, improving energy efficiency, and reducing costs, can exchange views during the exhibitions. The use of wear-resistant materials is growing because it is used in different areas like construction, steel processing, and ceramics.
SteelFab is an efficient combination of a range of different areas in the steel and metalworking industry. It makes together the best companies from Europe, Asia, MENA, and North America. This year's event will display new machines, and inform about the latest insights into the industry. This is by creating a cozy environment for the visitors to learn and explore more about the industry. Expo Center Sharjah will host the exhibition from 9 January to 12 January while registered businesses are showing more interest in this year's exhibition.

Duphat is a pharmaceutical exhibition that takes place at Dubai World Trade Center from 10 January to 12 January. This is one of the biggest exhibitions that organizes its events in this center with a size area of 30'492 sq miles. Exhibitors are showing their products in this exhibition. Duphat has played an important role in the pharmaceutical industry of the MENA region in the last 26 years.
The organization of Duphat was initially to support the local market, but faster they became a regional leader in the education of companies coming from the Pharma sector worldwide.
The event brings together businesses that cover each aspect of the industry starting from suppliers to manufacturers of medicines and products related, pharmacies and distributors. The conferences represent rich and intense learning experiences. Through expressing new information and listening to the latest practices companies improve their services and bring better products. The exhibition displays new products and encourages innovative solutions.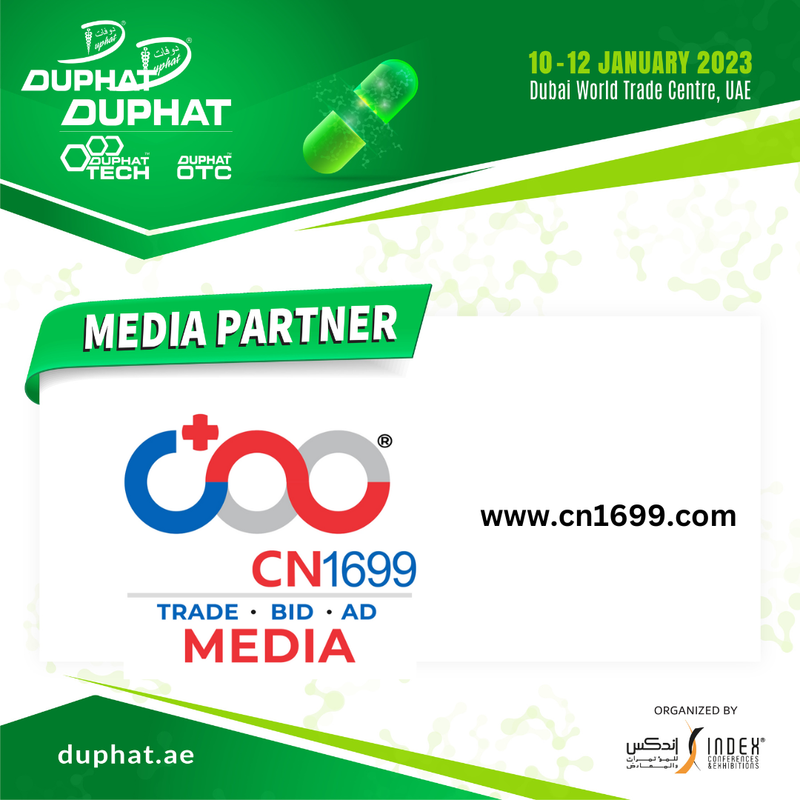 Business Presence
Duphat is a great opportunity for registered businesses to gain access to a fast-growing market. This is also a chance to develop their presence in the regional market. Small businesses have the possibility to interact with industry leaders and get the latest from the pharmaceutical networks. This is also a good option to build relationships with Government health authorities. Engaging with other actors in the market, influencing them to sell pharmaceutical products, and encouraging partnerships are options for exhibitors to consider.
Meeting with decision-makers in the industry can help each company understand better its own position. Exhibitors can set objectives in selling, packaging, and managing their business or network.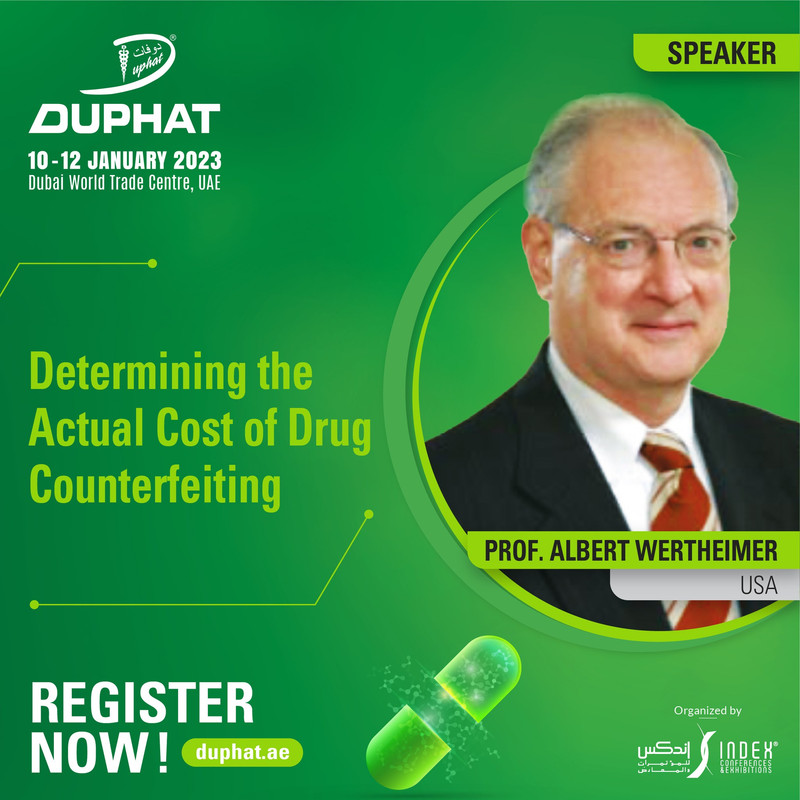 During the three days, a conference will be organized. Key sessions of the conference are scientific research and explanations. Also, workshops and sessions are specialized in different segments of the industry. The 100+ lectures is a section that will be focused on drug manufacturing. Government policies that affect the distribution and production of drug medicines in the region are another point of discussion.
Duphat is a unique experience for pharmaceutical businesses. Especially those that want to expand their knowledge and play a different role in their region. This is achieved through importing experiences from the Middle East region and profiting from new ideas and innovative solutions. Participants can profit from a deep knowledge network and gain access to a bigger network of the pharmaceutical industry.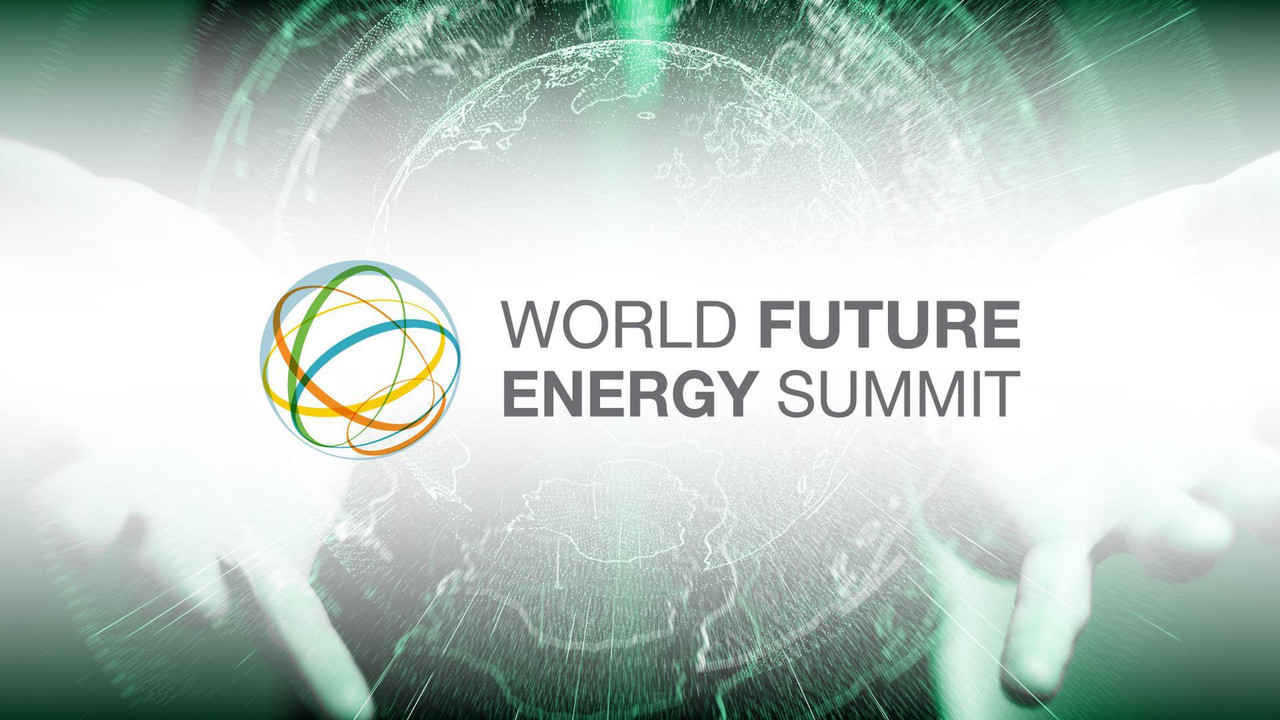 World Future Energy Summit will organize forums and events in different fields. Clean energy, water security, business connections, smart cities, climate, and environment are the main point of the debate. Events will be organized between 16-18 January 2023 at Abu Dhabi National Exhibition Center (ADNEC). WFES guarantees access to a global audience, merging together global buyers, government representatives, and scientific researchers. The exhibition is mightly important for the companies that are registered to secure new sources of investment.
World Future Energy Summit gathers together more than 100'000 industry professionals from 206 countries. Exhibiting companies, that this year will be more than 840, will be part of 100 Innovative start-ups. Some of the benefits of the exhibition for the companies that become part of the World Future Energy Summit are: Unlocking new business opportunities, networking with key regional buyers, launch new products. Connecting with industry decision-makers and engaging with new customers are good options as well.
Confirmed exhibitors for this year's events include actors from Government institutions and private companies. United Arab Emirates Ministry for Energy and Infrastructure, BEEAH, LONGi, HUAWEI, JINKO, ENGIE, and Sky Power Global have confirmed their presence. Each and one of the businesses will have its own space for discussion at the exhibition. Also will have the option to interact with other participants about topics related to each forum.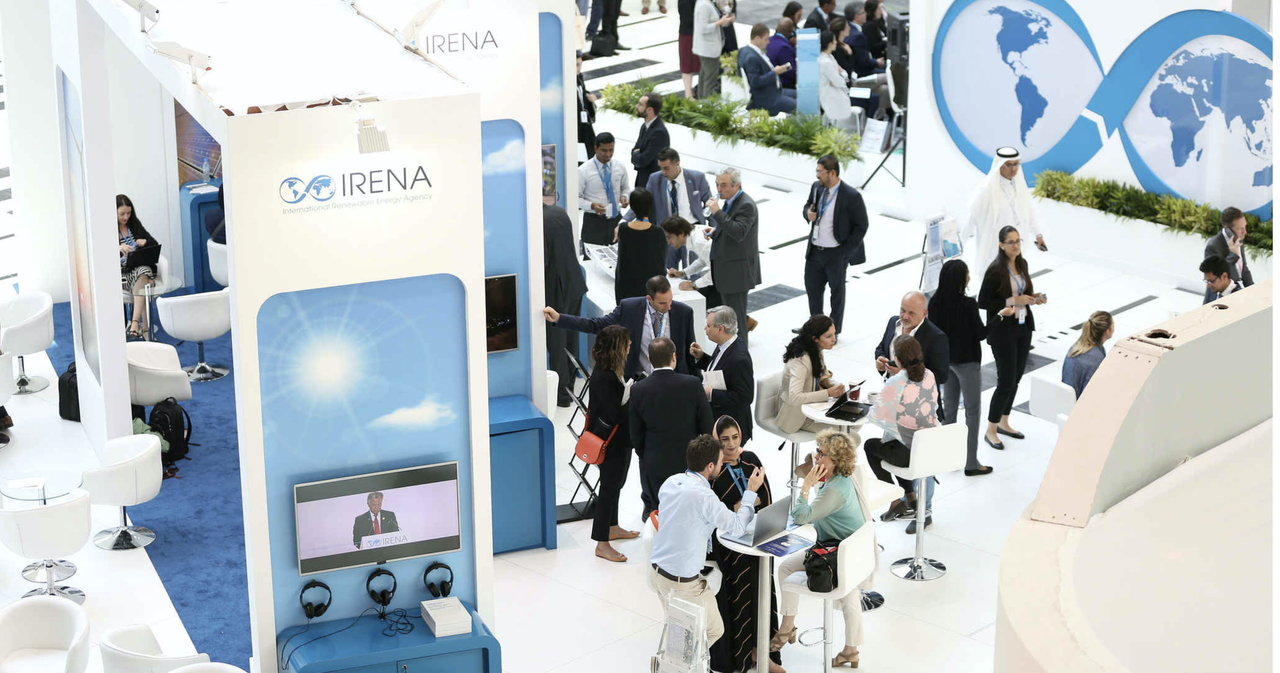 It is free to attend for visitors.
Each year an average of 34'000 international visitors and buyers from 125 countries attend the show. They have the chance to be part of the network revealing new technologies. Visitors learn the latest industry information about the products and processes.
The Water Expo and Forum is an event organized under the guidance of WFES. The exhibition encourages partnerships between businesses to increase sustainability and enable innovation for water desalination, smart resource management, and water production. This is the biggest event in the MENA region offering solutions related to water production, distribution, treatment, and reuse.
Companies in this forum will have the possibility to get insights into the water challenges of the region. Exhibitors can exchange info about analysis for water-energy connections for more options on green energy.
The Solar Expo and Forum is MENA's leading solar marketplace, bringing together engineering companies. Forum merges technology providers, businesses from the oil and gas field, industry buyers, and government representatives. Global Solar companies launch their products for a large and diversified audience. This forum is a great chance for visitors to learn more about solar energy. Each visitor can find new relations with exhibitors while profiting from their expertise.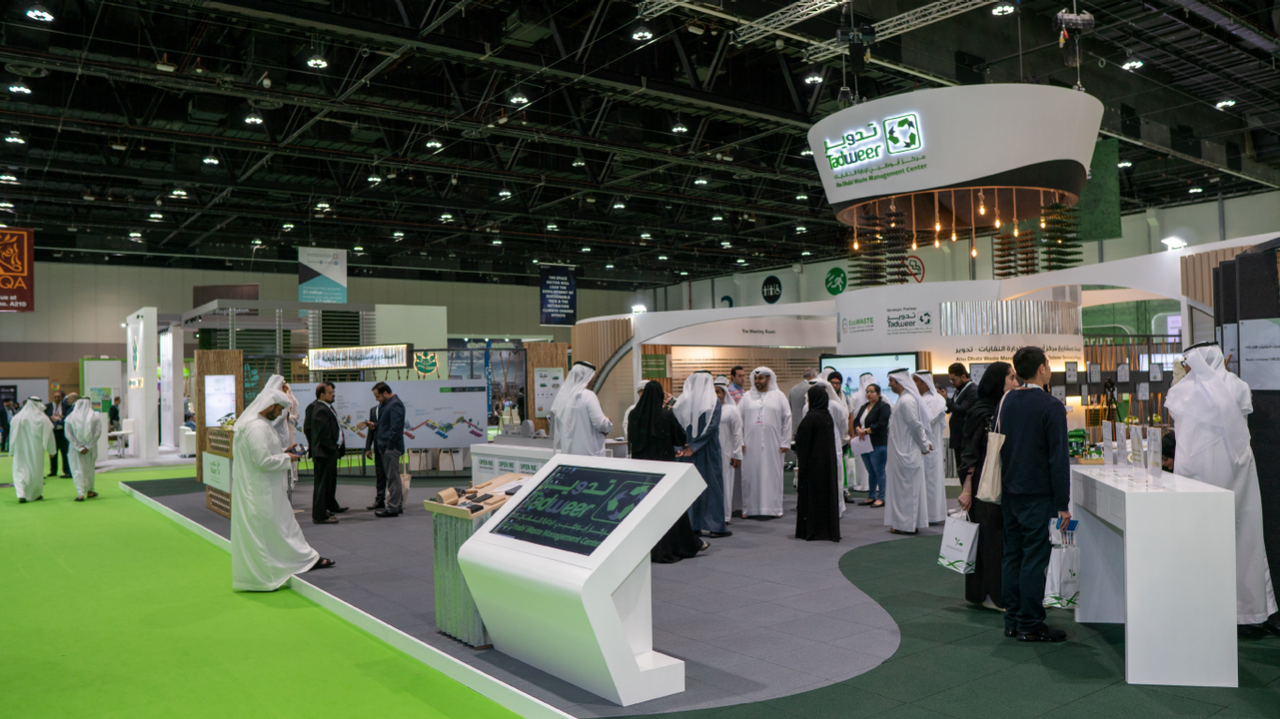 EcoWaste and Energy forums
EcoWaste Exhibition and Forum is the heart of the conversation of zero waste conversation in the MENA region. It is focused on driving businesses into the policy of sustainable waste management. Manufacturers and technology providers launch their new products for visitors and other exhibitors. This event is the ground platform for the region's RRR and waste-to-energy industries. EcoWaste offers practical solutions to reduce waste, digging into ways to create a circular economy.
Energy Expo and Forum is an event that put new ideas and technologies for renewable energy and clean energy. Best businesses in the industry present their products and customized solutions for oil and gas. This event is also open for visitors that want to join businesses finding solutions and expertise about energy-related topics. One of the ways to explore new knowledge is to replace hydrocarbon with clean sources. Another idea is to use alternative energy that comes from water, wind, nuclear and other sources to reduce the impact in the environment.
The Sustainability Business Connect program creates lines of communication between visitors, buyers, and exhibitors. Network Connections and VIP services are some of the advantages that participants in this exhibition can profit.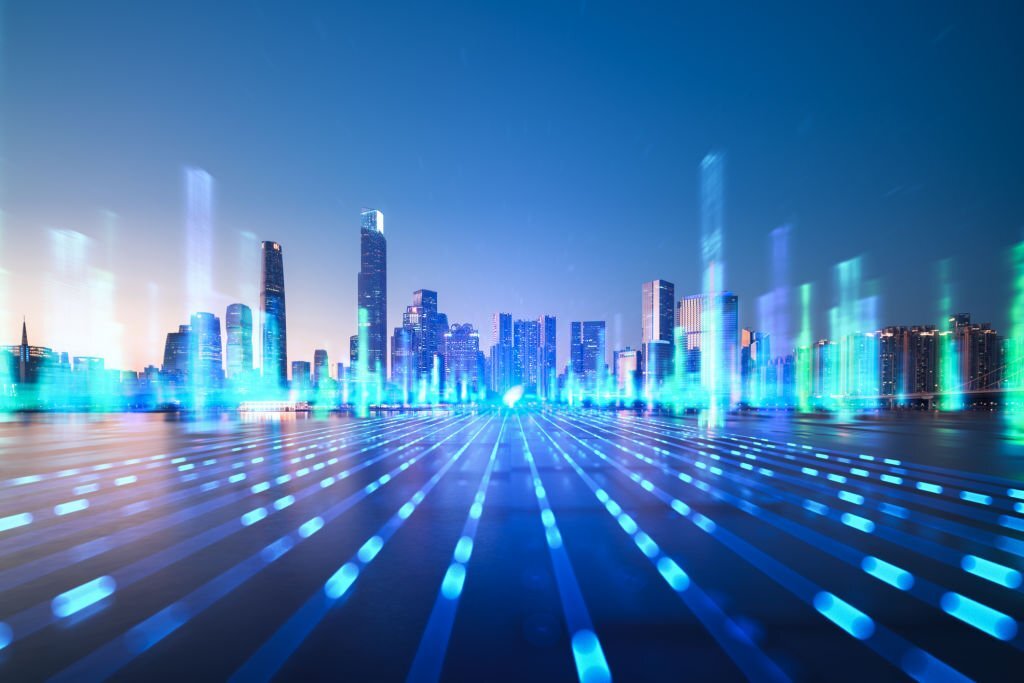 Smart Cities
Smart Cities Expo and Forum is an exhibition about new technology implemented into the city of the future. Government collaboration with experts in artificial intelligence and IoT engineers to develop the possibility of connected communities through smart systems. This forum is the place where market leaders in urban planning, smart health, and safe city technology display their vision of connected communities.
Exhibitors share the ideas of smart building technologies that will use special materials. Oriented through glass and special concrete, resistant buildings will have multiple connections with each other.
Smart Mobility solutions will be a central part of the debates for transport alternative methods and increasing usage of public transport. Roads and railways are subject to change and evolution. Smart Infrastructure is part of a total evolution that includes buildings, roads, railways, and aerospace that can be integrated inside the perimeter of the city.
Artificial Intelligence and Automation Solutions not only presented an advanced theoretical approach but also exhibitors have put into practice some of their ideas. That means that the robotic future is nearer than we think.
Climate Smart Energy focuses on water, solar, and wind energy. This represents a spectacular way to supply big communities at the same time. Not any community but communities that live in a smart way. Virtual Reality is interacting with our lives intensively already.
Imagine 90% of buyers go online and use the internet and other tools to do the majority of their occupation. Smart Meters and Monitoring are more about personal comfort. We already feel like robots of the future when we are equipped with smart metric phones measuring speed, heartbeat, and steps while running. Cool, right! Imagine this with every piece of equipment in the house and working environment.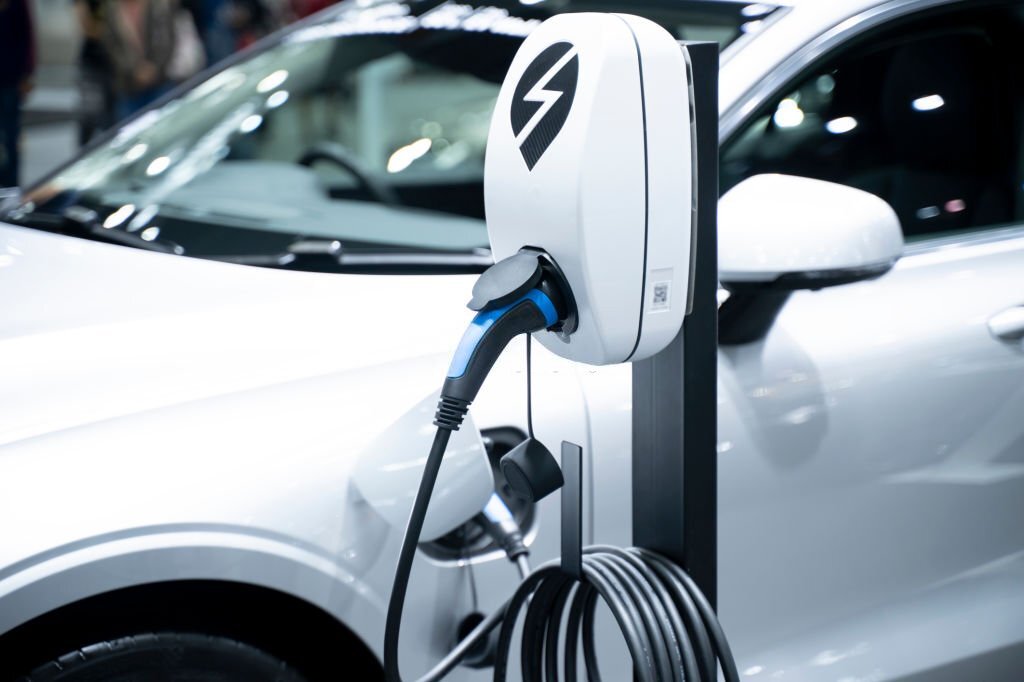 New Vehicles
Electric vehicles and charging stations are not only the near future but a good way of investment. And governments are quite taking this task very seriously. In England, you have free chargers for electric cars. There is more, Great Britain pays back an amount of money when you decide to buy an electric car. The Middle East is trying to implement similar solutions.
Dubai and Abu Dhabi are cities that are comparable with London or Manchester, but these cities are far from being smart cities. Yet! In the future, starting from forums like Smart Cities, we will have witnessed astonishing development and steps forward to be near what is Smart.
3D Printing is like inventing from nothing. It is the symbol of smart cities and can give boost a numerous projects starting from architecture and other fields of architecture. Driverless cars and flying taxis are projects in theory, but we are not watching Star Trek while seeing these projects. It can be possible and we don't have to wait decades to see one of these babies in action. Costs are questionable, but there are ways of providing the service to be available for a limited number of users.
Hydrogen Vehicles and charging stations can be also a good alternative and compete with electric cars in the market of automobiles.
Smart City Kiosks are a good way not only for fast buying but also to inform about city maps, directions, and services. There are also phones, but using these services publicly gives extra opportunities for buyers and visitors that are part of smart cities.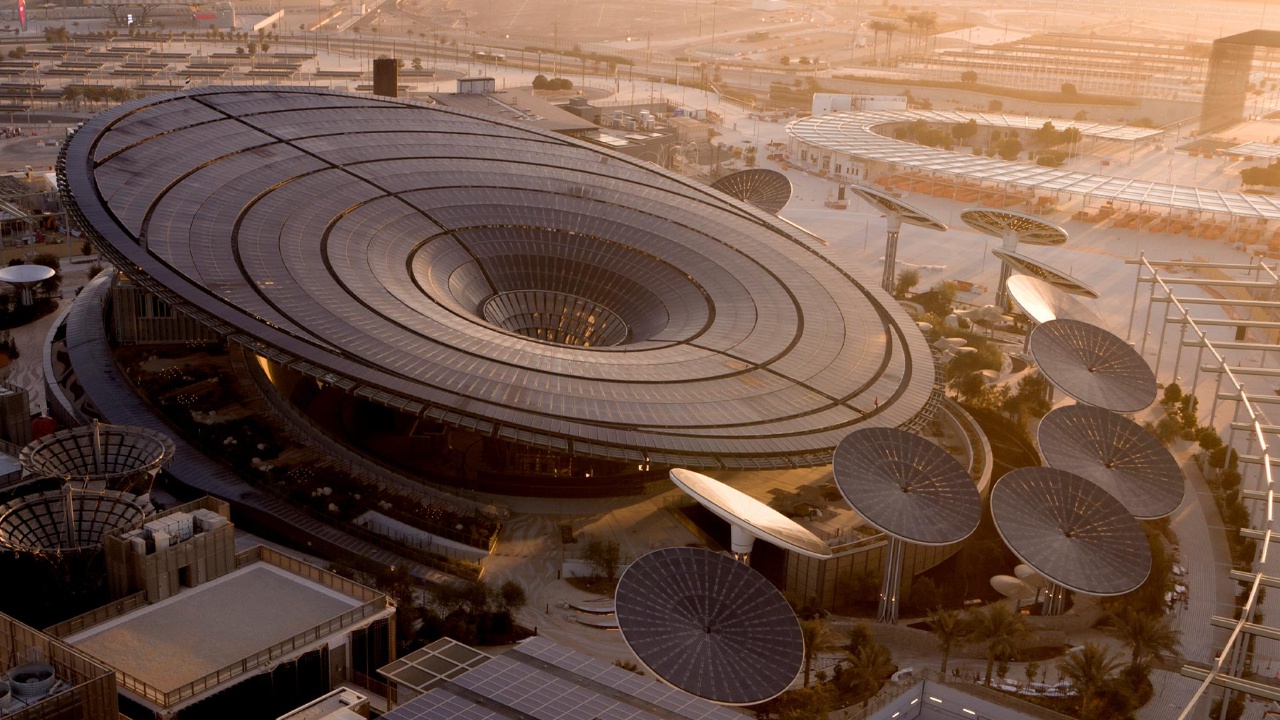 Climate and Environment Expo
The New Climate and Environment Expo will make together in one shelter opinion leaders, policymakers, and technology providers. Expo serves to discuss new ways, policies, and practical solutions to improve the so-called global climate quality. ClimateTech companies show innovative climate resilience and environmental protection solutions. This forum is the first of its kind in the MENA region to provide solutions that fight climate change. This is the forum where both government and private initiatives show their ways to prevent climate change.
The event will be focused on Air Quality and Pollution while coordinating efforts to not only eliminate the problem but also give life the best alternative choices to live comfortably in a clean environment. Instrumentation, Meteorology, and Analysis include a vast variety of equipment that measure different environmental metrics, and weather and provide analysis related to outside space and air quality.
Polluted sites and soils are not only an environmental problem but represent an economical problem as well. This means that the soil is not usable for agriculture and plant cultivation. Food and Agriculture are other aspects exhibitors will give thoughts about and apply analysis.
Biodiversity and Ecosystem
Biodiversity and Ecosystem Preservation are connected with the protection of both natural and buildings and objects protection. This means that the balance of these two aspects is questionable and this event will give insights into how to repair the damage of the environment and limit the space of urban architecture so it can affect less in biodiversity and keep natural ecosystems natural.
Resilient Infrastructure is exactly that point of discussion that gives light to the debate of human interaction in nature. Still exist ways to give the right space for human infrastructure and at the same time protect the environment. Risk Management and Emergency Response is a topic that requires attention where the investments inspire solutions and not vice versa. So environmental inspirations come second.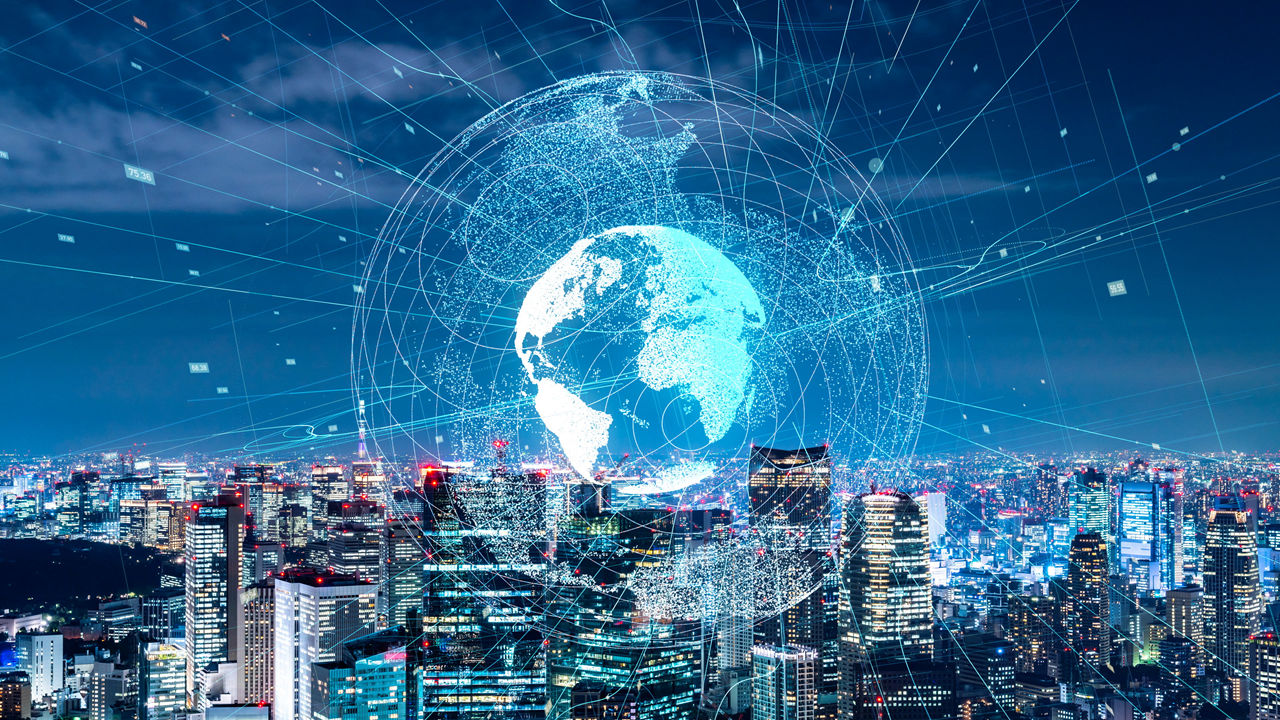 Workshops will give insights into different surgeries to cure ear problems. Also, orientate to the best practices to study and determine diagnoses. In this exhibition organizers of the event will provide solutions and devices from 25 countries. Germany, UAE, France, India, China, Turkey, and other countries are part of the exhibition with their mark and businesses.
This exhibition offers numerous ways to clean energy and provides detailed knowledge about different kinds of energy. Forums are a unique experience that derives into amazing solutions project the future. Exhibitors, organizations, and visitors can exchange ideas and be part of a big base of innovation, big thoughts, and astonishing practices to defend the environment and justify the need for energy.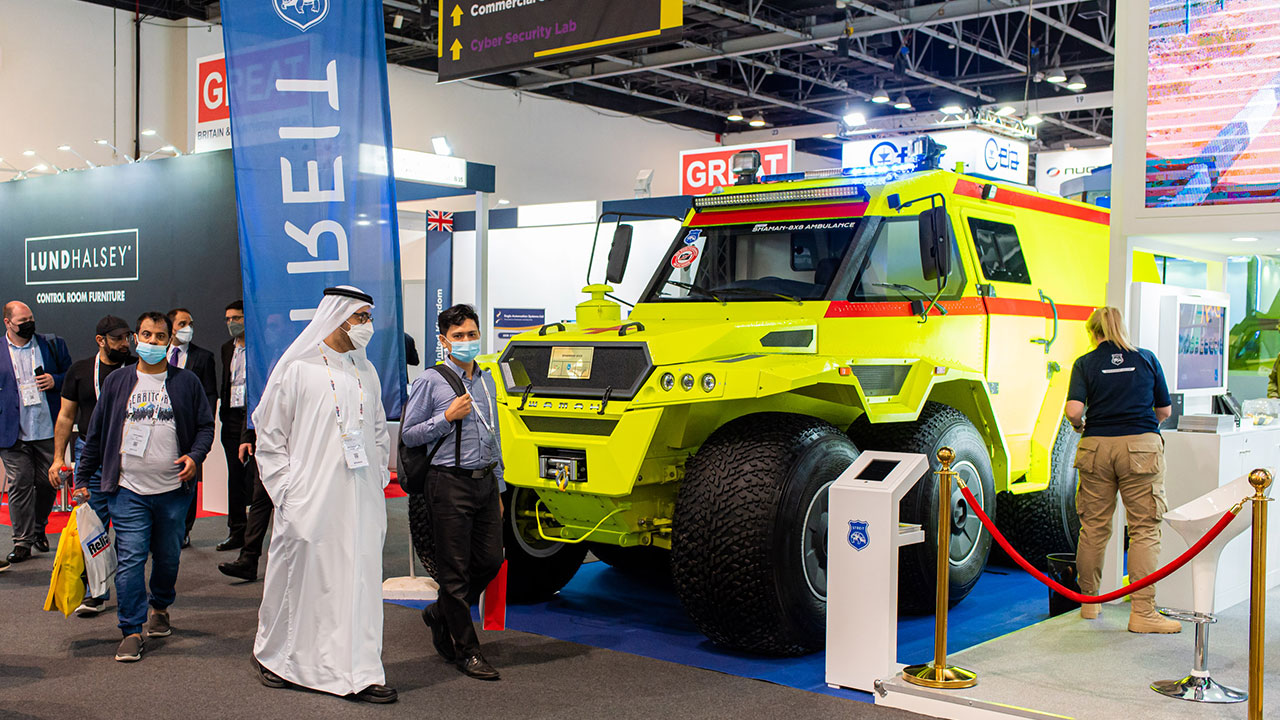 Intersec is an exhibition about safety and security that merges together in its 24-th edition with more than 1000 exhibitors to discuss strategies related to global security. From 17 January to 19 January more than 30'000 attendees from 120 countries will be part of the exhibition.
There is a huge space available (47'000 sq miles) for the display of different equipment in Dubai World Trade Center. The exhibition will host 5 key product groups that include Commercial and Perimeter Security, Homeland Security, Fire and Rescue, Safety and Health, and Cyber Security.
Commercial and Perimeter Security is the second largest section of Intersec with 15 of 20 available exhibitors represented. This section justifies the need for government and private sectors, which provide security products and solutions like border control, protective barriers, locks, access control protocols, and other manners and techniques. Some of the products presented in the exhibition are Monitoring Systems, Surveillance, CCTV, DVR, and Video Management systems.
Homeland Security with the support of Dubai Police and The Security Industry Regulatory Agency (SIRA) is displaying product solutions for Homeland Security, Law Enforcement, Airport, and Aviation Security. Products presented at Intersec include Government Solutions, Detection, Surveillance, and Control Rooms.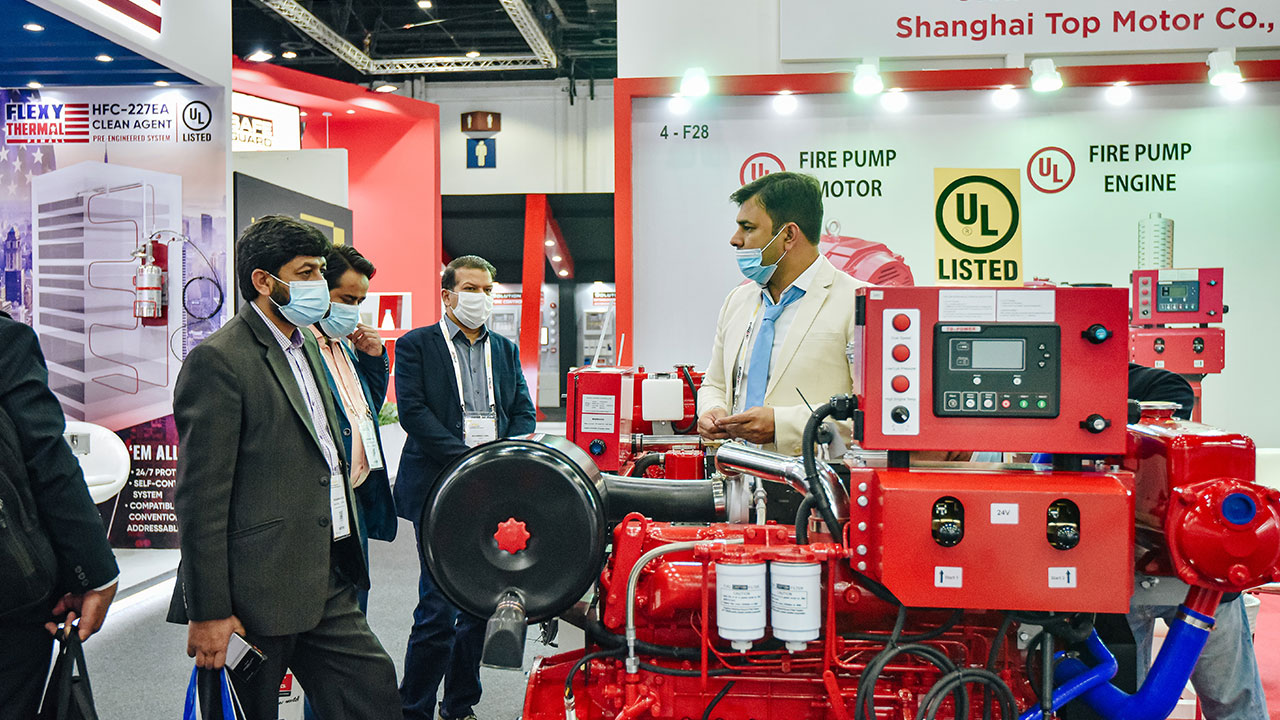 Health and Safety
Fire and Rescue will group together fire and emergency professionals showcasing the latest firefighting technologies and the best international practices. Some of the products include Fire Prevention and Protection, Fire Fighting Equipment, Emergency Alarm, and Warning Systems, Rescue Equipment, and other equipment that ease the rescue from fire.
Safety and Health is a central point of view in the exhibition because has to do with our everyday life and is focused directly to equip with tools that are constantly evolving. So fields like Protective Clothing, Ergonomics, Occupational Hygiene, Occupational Health, and other fields are facing changes and need special attention. The Safety and Health section is divided into three other subsections: Environmental Health Safety, Industrial Health, and Safety and Public Health and Safety.
Environmental Health and Safety is the department in a company or an organization that ensures the company will not make any environmental damage and takes care of workers' health and safety. Environmental Health and Safety puts an eye on companies' obedience to law and legislation to ensure that companies follow the best practices.
EHS's goal is to prevent accidents, emergencies, and health complications at work along with environmental issues related. Some of the products of Intersec include Biological, Chemical, and Physical Hazards, Energy Conservation, Wastewater, and Ambient Water Quality, Water Conservation, Hazardous Materials Management, Waste Management, Contaminated land, and other products.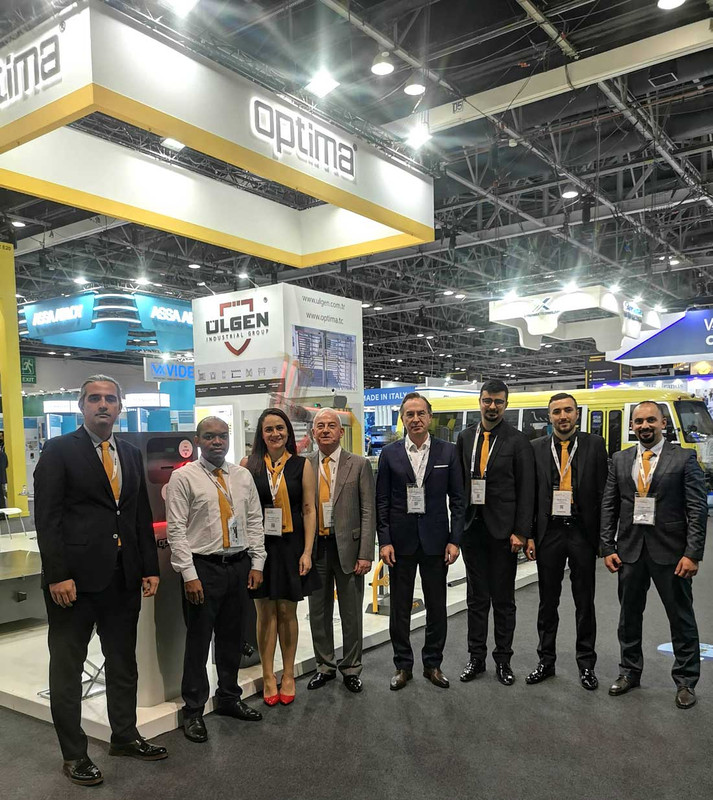 Industrial Safety and Cyber Security
Industrial safety refers top safety practices of the industrial sector. Those practices and processes aim to protect industrial workers, facilities, and the environment. Industrial safety is focused on the relationship between the workers and the environment to ensure that this relationship stays in a level of a healthy relation. Products that will be available for the visitors in this section include Communication, Training and Monitoring, Radiological Hazards, Personal Protective Equipment, and Special Hazard Environments.
Community Health and Safety is all about defending communities from environmental pollution caused by human activity such as contamination and other human-made hazards. Products that will be displayed in the exhibition include the fields of Water Quality and Availability, Structural Safety of Project Infrastructure, Life and Fire Safety, Traffic Safety, Disease Curing and Prevention, and Emergency Response.
Cyber Security offers a wide variety of experts. Last Year's edition welcomed cyber solutions, experts, hackers, advisors, and cyber economists. The cybersecurity lab is an international space for expertise and practice solutions that drive innovation and ease in cyber defense.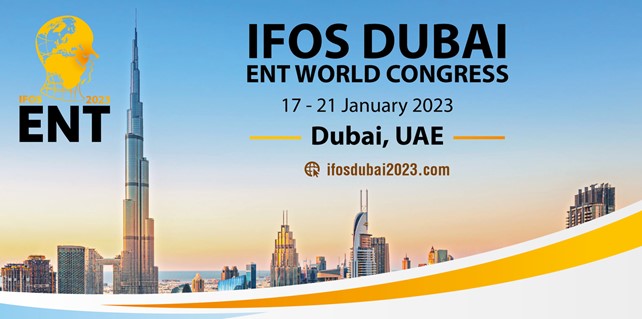 The International Federation of ORL Societies is an organization representing over 50'000 Otolaryngologists from 120 countries. IFOS started the activity in 1965 to continue tradition between World Congresses. This organization has evolved on a global scale to treat people with ORL diseases.
IFOS has made tremendous progress in evolving its structure. Its activities include lobbying the World Trade Organization. providing interchange between centers, publishing a newsletter, and maintaining an active site. The International Federation of ORL Societies has started a worldwide action 'Hearing for All'.
The General Assembly of IFOS, which meets once in four years during the World Congress, elects an Executive Committee that takes care of the tasks of the IFOS between World Congresses. This World Congress organizes its activity in Dubai World Trade Center from 17 January to 21 January 2023 and will choose a new Executive Committee. This event will be under the patronage of his highness Sheikh Mohammed bin Rashid Al Maktoum. This year's focus will be on head and neck surgery but also on otorhinolaryngology.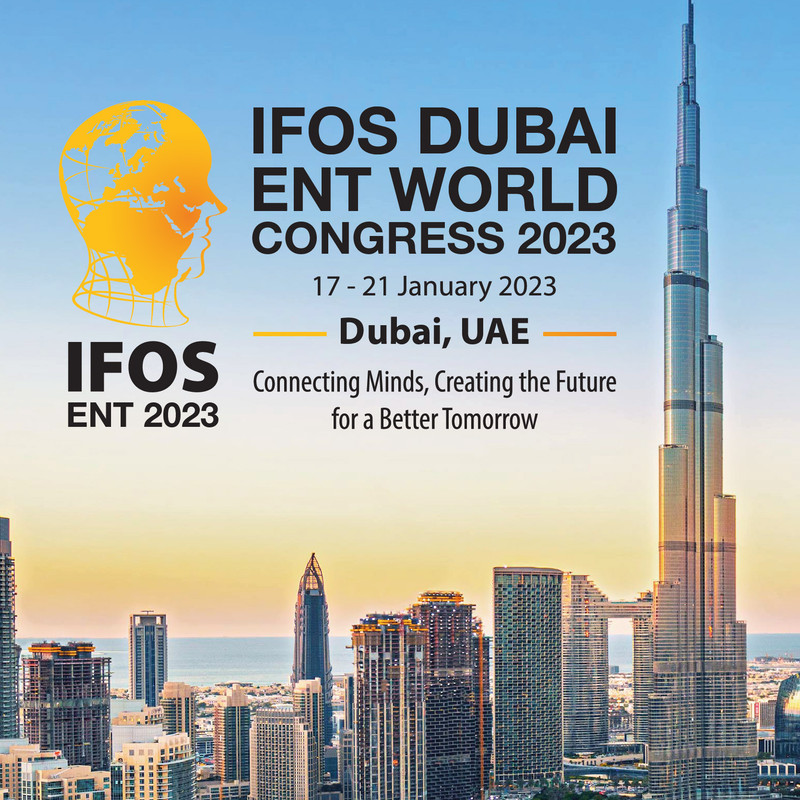 Workshops
Workshops will give insights about different surgeries to cure ear problems and also orientate to the best practices to study and determine diagnoses. In this exhibition organizers of the event will provide solutions and devices from 25 countries like Germany, UAE, France, India, China, Turkey, and other countries.
This exhibition represents a great network of fellow otorhinolaryngologists to cooperate with each other in order to follow the best practices and be informed about latest discoveries that come from each corner of the world.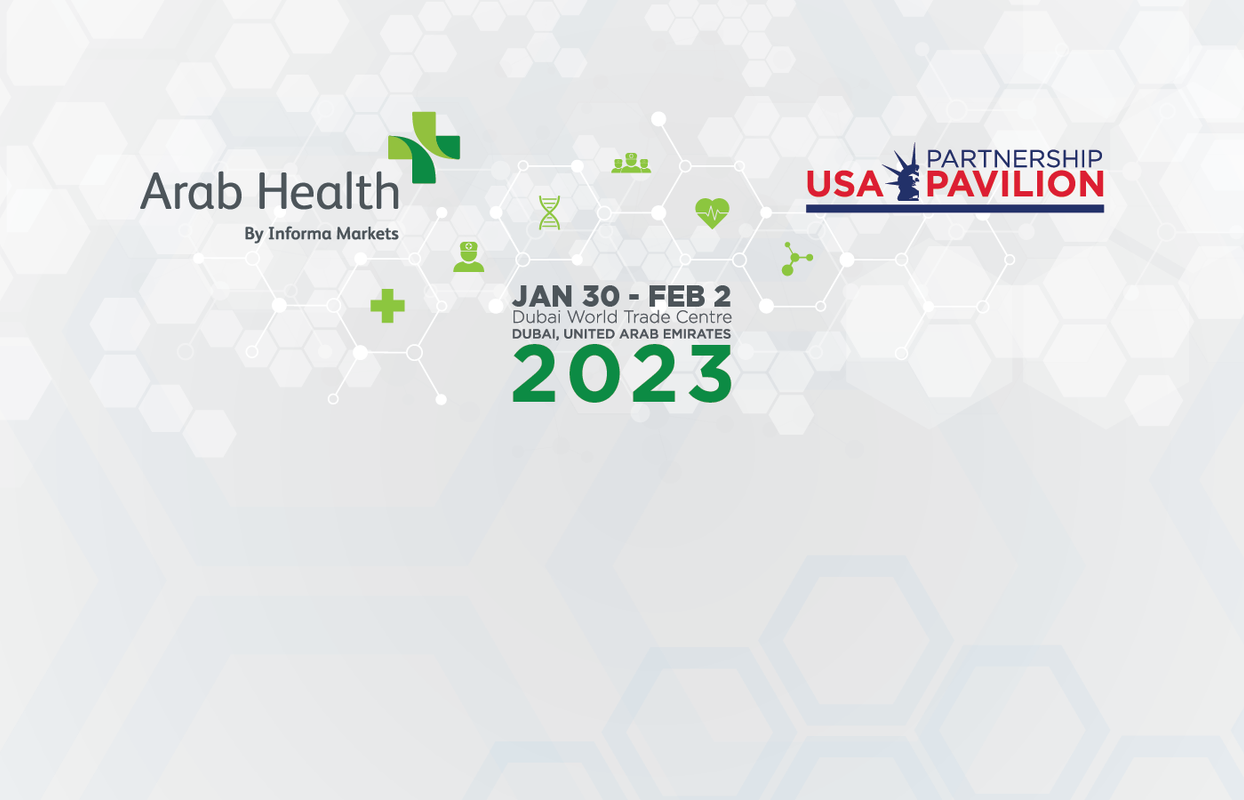 Arab Health brings together different actors from the health industry and makes healthcare sustainable and efficient. This event dates activity are from 30 January to 2 February 2023. More than 3000 Exhibitors from 70 exhibiting countries will participate in ten conferences at Dubai World Trade Center. In total will be 51'049 visitors that will have the opportunity to learn more about innovative solutions that lead to industry evolution.
Conferences include radiology, OBS and GYN, orthopedic, internal medicine, and more topics to share related problems between experts.
Total Radiology Conference
Obs and Gyn Conference
Orthopaedic Conference
Internal Medicine Conference (New)
Surgery Conference
Paediatrics Conference (New)
Emergency Medicine Conference
Anaesthesia and Pain Management Conference (New)
Quality Management Conference
Public Health Conference
Exhibitors have a special approach to the exhibition as they seek to put forward initiatives and generate ideas that lead to solutions approved by experts. They have the chance to interact with industry leaders and potential buyers to not only generate sales but also to present total new policies for the customers and the competition. This is done through discussions that produce results in practice and the second method is by displaying products.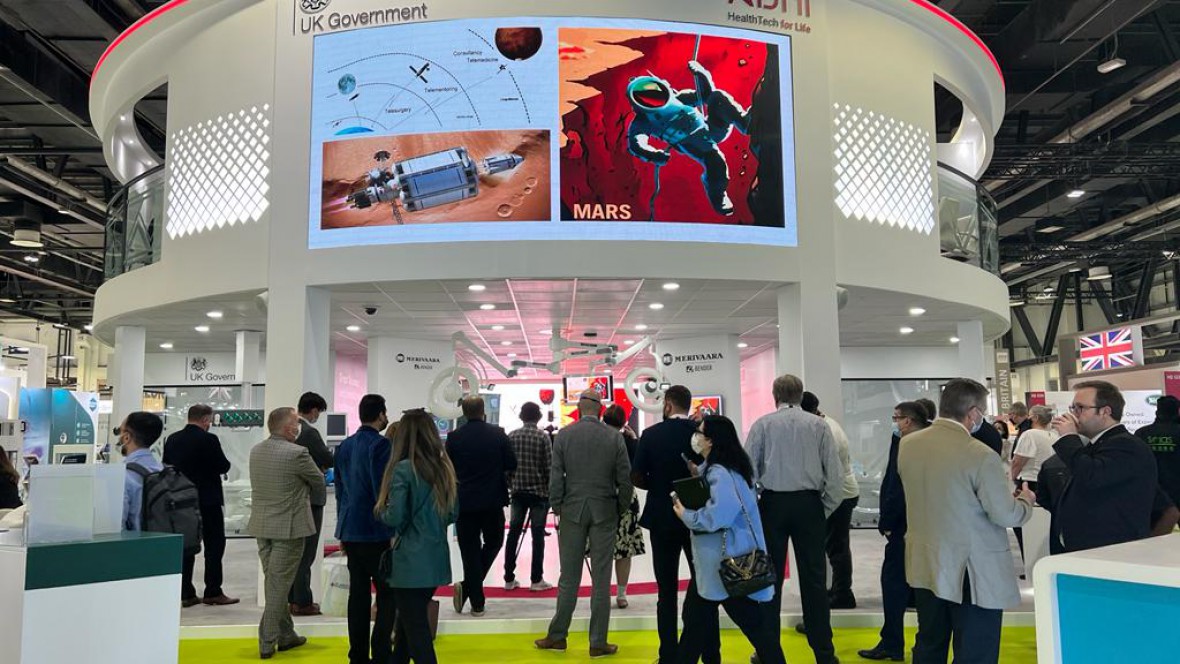 New Products and Services
Launching new products and services is a win-win story for three sides, the clients, the businesses, and the industry. The customers benefit from new services and find the product that is searching for. Exhibitors have the opportunity to expand their activity in the exhibition thanks to the variety of audience that is present during the days of the activity. Industry profits from new products and solutions that serve as key methods of operating in different areas.
A global audience means an international presence as well. Increasing international presence is quite possible when you already have the tools, people, and space to tell others about your business. That increases also brand exposure and makes different products at least more popular at the same time. This is because the audience in the meeting represents a highly interactive market which means that they can share the information with their partners and customers in the field.
Biomed Engineers, Dealers and Distributors, Clinicians, and Government Entities will collaborate together to find the best policies that can lead to useful solutions and provide good trading options. The healthcare network will be explained in depth, starting from the first materials, packaging, distribution, and the relationship with clients. This circle represents the core of the health industry market and explains the way it works. As a visitor, you have the right to attend the exhibition for free.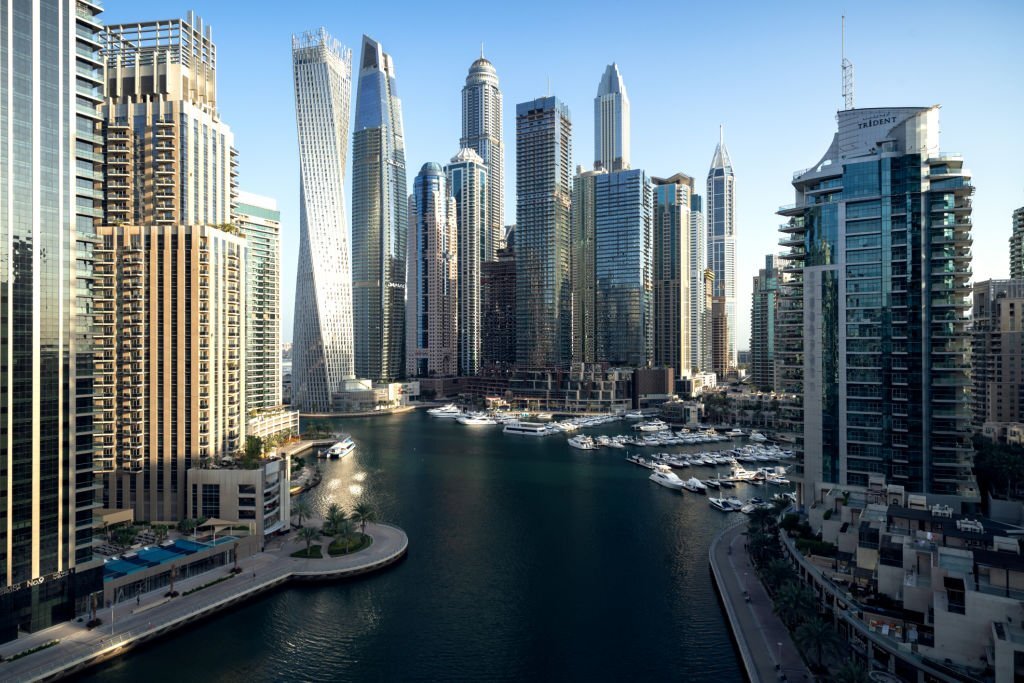 Book your Entry Now!
January will be the first month when these exhibitions will give the first intensive run to a yearly marathon. Security, the health industry, pharmaceutics, and the steel industry are the fields that will expose their products and innovations in the biggest centers in the UAE. These meetings will gather half a million visitors and exhibitions combined.
Visitors will have free entries in all the exhibitions and organizers and exhibitors will have numerous opportunities to show their brand and make it global at the same time. If you don't want to miss these meetings, contact Square Marketing.
We will do the registration for you, take care of your design and improve your presence in these exhibitions.
Apart from being a unique learning opportunity, these exhibitions are the window of the future for each business with new information and new markets to explore.