E-Commerce Booming
E-Commerce in Dubai for 2023 is booming and this growth is not usual. Some inner and outer factors are indicating already population's behavior to buy online and spend more time on E-Commerce websites.
The United Arab Emirates is the fifth economy in the Middle East. Dubai is at the center of development that includes fields of petroleum, fishing, aluminum, cement, fertilizer, ship repair, construction, and sales. With the fastest recuperation in terms of growth in the region after 2020, now the economic growth from 4.6% for the year 2022 is 5.4% in the year 2023. The country is changing faster and the immigration scale is high. That means that more people are coming into the country mainly from Bangladesh and Pakistan.
Online Business in Dubai
All this data serves to create a picture of what is the country's inner movement. The most important aspect is what can you start to have an online business in UAE and its center Dubai.
Being the economical capital and main economical center, Dubai is offering enormous opportunities to actually start a business online. First, it is easy to get a license and sell. You need to have a well-designed e-commerce website that will serve you to list your products and have different layouts on your pages. If you want to make that for you, please drop a message at Square Marketing. We will make the design for you, sales template, user paying information format, and all the rest. You'll have a brilliant piece of work within days and can start working.
Top 10 E-Commerce sites
Curious about which is the top ten? Probably you've heard about them. These giants earn so much that it is been real competition for other industries such as oil and construction. Starting an online business is easy for everybody and can have success according to businessincorporationzone.ae.

Amazon
Amazon is selling everywhere in the world, but you can be surprised that amazon.ae is the market leader of e-commerce websites in Dubai. They sell everything to everybody. Amazon in UAE has a monthly total of 23.7 million visits according to similarweb.com and is the sixth more clicked website in UAE. They rank first in the E-Commerce sites category and have a bounce rate of 32.20 %.
The site never goes down 20 million visits in the last 11 months according to semrush and this is pure winning data if you refer to the percentage of users who buy on the website after visiting it. This percentage is around 38%. Ages from 25 to 34 years old visit the website more often and this is the category that buys the most.
Products that this website sells are electronics latest iPhones and Macs, laptops and PCs, sports equipment, personal care, home products, toys, watches, and even pet vaccines.
Amazon is expected to dominate the market in Dubai for the next ten years for many reasons. First of all, because are part of a bigger company that is multinational like Amazon.com. Second, because the priority for amazon.ae is very high considering market demands. Third, is because amazon.ae is the only site that can follow the product demands in new economical situations. That means they can follow people's desires in a city that grows day by day.

Dubizzle
Dubizzle is well known and has good interaction with the users. They split their main page into different pages for every city. This gives them a particular feature targeting users and responding to their needs based on the city they live. That is great for the speed of the delivery and visitors to the site can choose to buy inside the city.
The city that buys the most is Dubai but cities like Sharjah and Abu Dhabi don't get behind. Dubizzle has in total of 6.4 million visits per month according to similarweb and is ranked 21-th in most clicked websites in Dubai. Founded in 2005 Dubizzle counters 500 workers with annual revenue of 50M $.
Dubbizle.com sells used cars, motorcycles, auto accessories and parts, and heavy vehicles. They offer rent properties and properties for sale. You could find form residential units for rent, rooms for rent, the commercial for rent, and more. Visitors buy electronics, computers, watches, clothes, and many accessories more. Users can find furniture and garden and mobile phones and tablets.
This website has taken the best of Dubai and merged it into the online community. They follow amazon and the budget they have is extremely lower. Saying that Dubizzle is a stable alternative online and can compete in Dubai and any other city in UAE.

Noon
Noon has been at the top of the market in the last few years. But things change so fast online and every E-Commerce site needs to adapt to customers' needs. Noon has some impressive stats though. They have 18.2 million visits last month and visitors spent 3:57s on average on this site according to similarweb. Noon is ranked 2679-th globally, 29-th in the United Arab Emirates and they are our number 3 in this top 10 ranking.
Founded in 2017, Noon numbers as many as 10000 workers according to similarweb and have annual revenue of 500M $. Also like Dubbizle, Noon's average audience is 25 to 34 years old. They use double click as an advertiser and pretty much generate all their income from online buyers. But how noon is securing these buyers? Similarweb data is telling that 53.63% of the visits come directly, 30.64% from search engines, 2.27% from social media, and 1.19% from referrals. Keywords that Noon is ranking for are Noon and Noon UAE. One interesting fact is that Noon takes traffic from YouTube, 57.31% of all social media traffic they have.
Buyers go to noon.com to purchase electronics, clothes, sports and outdoor essentials, furniture and every product connected. A-Z products to ensure that nothing is outside visitors' desires. What makes Noon so powerful is that they can offer colorful products inside electronics from mobile phones to house equipment. Visitors can find anything to Noon and that helps the website to maintain its position among the bests.
Lulu Hypermarket
LuluHypermarket is an online supermarket that sells various products in Dubai and UAE. Fresh Foods, electronics, sports accessories, and outdoor essentials. You can find anything on the site. It's like a giant store online that offers a variety of choices.
Lulu Hypermarket is part of Lulu Hypermarket Group which has in total of 50 workers and operates in different states throughout the Middle East. They generate less than 1M $ per year but this will go higher because the visitors the page is generating in a single month are very high.
LuluHypermarket.com has 3.4M visitors per month and it is ranking 186 in UAE. They are the first in the country for E-Commerce and have a good relationship with clients in Dubai. That is because most of the visitors from that city also buy in the supermarket online.
The ages that visit Lulu Hypermarket the most are 25-34 years old and they have a good average of users that comes from search engines. So 53.11% of the users find Lulu Hypermarket from search engines and this is a huge achievement for E-Commerce SEO.

Carrefour
Carrefour is a leading company that generates more than 1B $ in a single year and has more than 10000 workers. The company undoubtedly has enormous growth in the physical market, but they are some positions behind online. This is only for the simple reason that other companies are doing well in positioning their domains. Carrefouruae.com has a good design and you already can see many products listed on their first page.
The website has in total 2.5M visits and it is positioned 58-th in UAE. Visitors spend 3min 33s on average on the site and younger ages prefer buying products compared to other categories. The site is doing quite well in SEO and most of the users come from search. The majority of 45.8% of users search for one of the keywords carrefour or carrefour UAE and 27.88% enter directly on the site.
The company sells food, grocery, mobile phones, beauty accessories, cleaning supplies, and other kinds of products. Users have a login opportunity and discounts apply for different accounts.

Sharaf DG
This site has a good amount of users and it has fast growth as well. They sell only in Dubai and can overcome a position if you calculate the traffic coming from the users inside the city. Sharaf DG has 1.9M users monthly and it has been constant in the last three months.
Most of the users come from search engines and like the other previous E-Commerce sites is in the top 10 because it does so well in the SEO business. With 59.56% of the users coming from search, we can assume that already this site is doing good work ranking the site. Only 18.71% of the users go directly on the site and that means that most of the users are new users. They find the page through searching and Sharaf DG certainly would be positioned higher if they have more returning visitors.
People buy in uae.sharafdg.com electronics, home, and kitchen appliances and products related. A cool thing in Sharaf DG is that they have an online chat where your can chat and express your thoughts about a product, ask a question or even complain about a product. Sharaf DG is making a fast road to the top and this is mainly because of its marketing strategy.

Groupon
Groupon is a company that has its headquarters in the United States but operates in the United Arab Emirates. They have around 5000 workers and make more than 1B $ according to similarweb. Groupon.ae is owned by Groupon Inc and are founded in 2008 and operates in the sector of E-Commerce and Shopping.
The website had 419.2K visits in the last month with a bounce rate of 48.47%. Website is raking in the first place for the E-Commerce category but they are far behind in country ranking in the position 418-th. Groupon has lost some clicking compared to previous months but they keep their influence in the business. Unlike the other websites, groupon.ae has direct clicks rather than searching. Users that click website directly are 40.39% with 30.04% of users that search for keywords groupon, groupon Dubai, groupon uae, etc.
You can find in Groupon products like Beaty Esthetics, food, or furniture. They have also a signup platform where you can subscribe to the website. That is the reason that online site has so many visitors that click directly and are keen to interact with the site.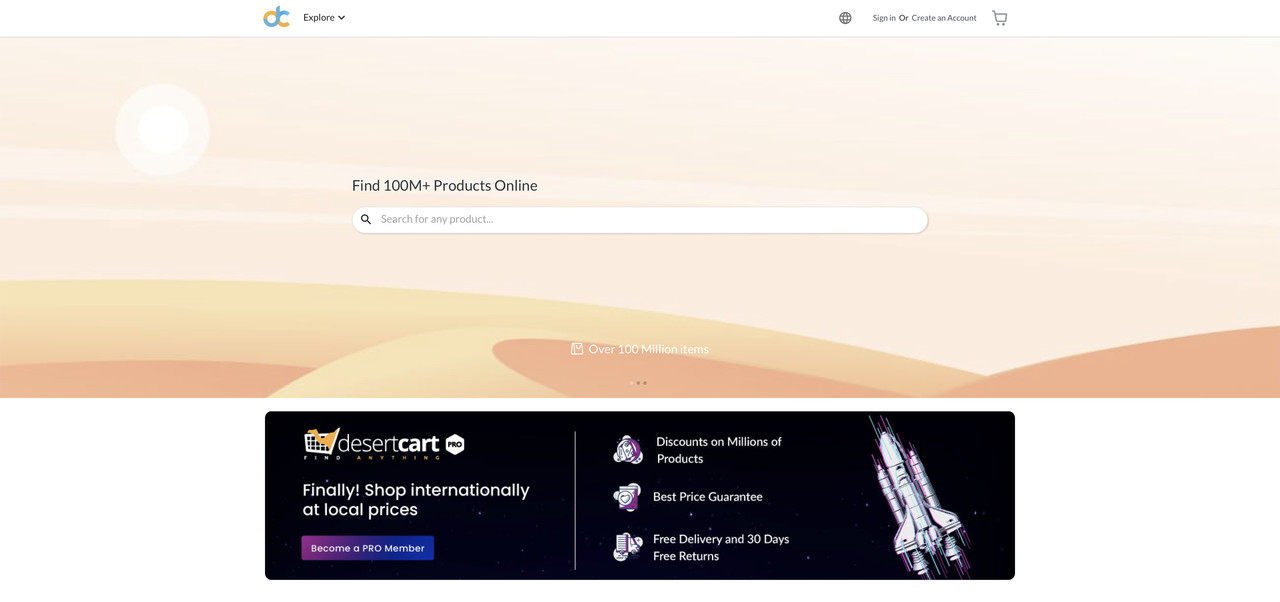 Desertcard
Desertcard is a business that started its activity back in 2014 and has done so much to reach that position in E-Commerce websites. Their headquarters are in Dubai and they make 2-5M $ per year. Desertcard has around 50 workers that keep the site in good rhythm in the E-Commerce business.
The site has in total 1M visits monthly and they have a bounce rate of 63.94%. They rank 214-th in the country and is room for improvement in E-Commerce rankings as well. Most of the visits come from direct clicking with 56.20 of the users that visit the page. Of course, SEO can be better, but already the site is ranking for some keywords like headset or whole-fire.
You can find in Desertcard products for healthcare, beauty and grooming, toys, baby care, toys and sports, electronics, fashion, and numerous other products. The best feature of the website is that they can find the user's location and propose him a business nearby.

Whizz
Whizz is a business that has its facilities in UAE and makes around 2M to 5M$ per year. They have around 50 workers and the webpage is making with all the ups and downs in the business.
Website whizz.ae generates 172k visits per month and that is not impressive data compared to other websites. But they have a lot of clients that buy their products and this is helping their business be more successful rather with visits. They are ranked 3044 in the United Arab Emirates and also they can improve their ranking on the E-Commerce ranking as well. But when it comes to SEO, these dudes run the market. Almost every visitor is coming from search engines with 91% of the users searching for numerous keywords.
Whizz sells fashion, clothing, sportswear, electronics, beauty and health products, toys, and books. You can also create an account and profit from discounts as well. The page has a good design and you can find many products.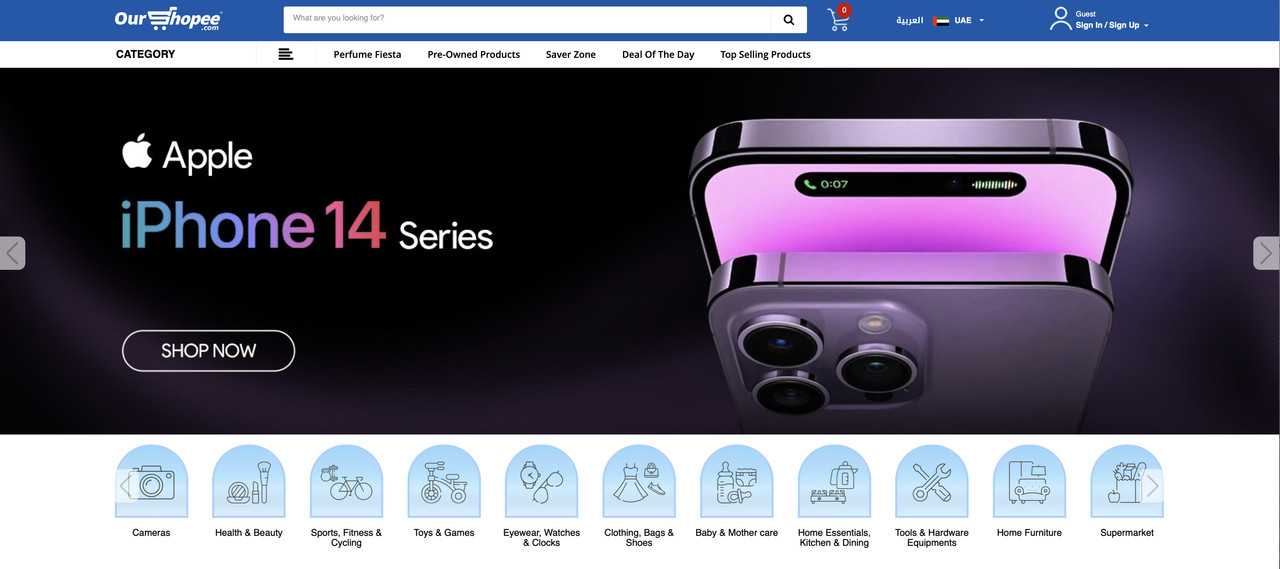 Ourshopee
Ourshopee is a business that started working in 2014 with headquarters in Dubai and counts more than 50 workers. Their revenue is 5-10M $ annually, a sum that is considerable seeing ourshopee.com visits.
The website has a total of 334.5K visits last month with a bounce rate of 59.88%. The site can do better in national rankings while they hold 2265 position in UAE. Young ages want to visit the webpage and spend money buying online, but ages 35-44 years old don't get behind. This group of buyers is 21.54% of all visitors and is a considerable number seeing all the traffic that the site has. More and more visitors are coming from search, currently, 65.24% mainly because the site runs a lot of ads. Some of the keywords this site ranks for are Ourshopee, general washing, Dubai shop online.
You can find online electronics, home appliances, cameras, health and beauty, sports, cycling and fitness, toys and games, clothing, furniture, supermarket, and more. The site has a sign-up/sign-in platform that is pretty cool and offers the chance to personalize your purchases and profit from discounts.
Conclusion
All the businesses ranked above have tremendous incomes coming from online purchases. You can probably notice that some websites has less visits than others but are ranked higher. That is because these sites have more clients buy their products, are ranked higher based on different metrics like bounce rate, consistency, growth rate, channels of distribution, the budget they invest online, and other factors that position them well in all sites ranking, and in Dubai sites ranking also.
Some of the sources used in this top 10 ranking are similarweb, semrush, and articles like the Economic Growth of United Arab Emirates. All data found in this post are referred to its source and nothing is a subject of interpretation and opinion. The ranking is made based on facts that position these sites higher than the others.
E-Commerce is a business that will continue to grow in Dubai. Customers have already created their way of investing their incomes and online business is profiting from that. E-Commerce gets investments from both sites, online investors that are willing to create new spaces by investing considerable sums, and online clients that spend money buying online. The best is yet to come. E-Commerce will go bigger and this is a real chance for each small business trying to enter the field and create its E-Commerce site.